The benefits of Desjardins Online Brokerage
Mobile App

The Disnat application with fast fingerprint identification. Download the app and make trades from anywhere.

Enjoy professional, specialized service

Our expertise and customer service have been recognized again and again in the industry.

Get informed

Want to become a seasoned investor? We've teamed up with the best educational partners in the business to offer you top-of-the-line investment training. Check it out!
State-of-the-art platforms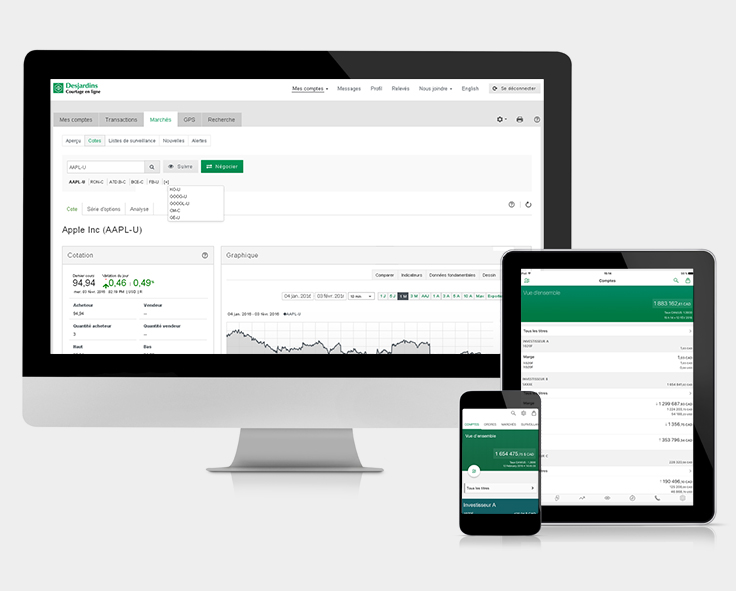 Disnat Classic
The perfect solution for the beginner or experienced investor
Modern, user-friendly web platform
Real-time quote updates
Learn about Disnat Classic
Disnat Direct
The perfect solution for the active investor
Advanced trading platform
Unlimited streaming quotes and charts in real time
In-depth technical analysis features
Learn about Disnat Direct
S&P/TSX Composite Index
20,633.27 Up 0.00 (0.00 %)
Delayed : 2021/12/03 16:53:18
Previous close $20,633.27
Opening $20,815.92
Price Bid $20,592.42
Price Ask $20,592.42
Size Bid N/A
Size Ask N/A
Today High $20,825.21
Today Low $20,492.03
52 Weeks High $21,796.16
52 Weeks Low $17,297.75
Volume 253,119,385
S&P 500 Index
4,538.43 Up 0.00 (0.00 %)
Delayed : 2021/12/03 17:35:09
Previous close $4,538.43
Opening $4,589.49
Price Bid $4,470.09
Price Ask $4,470.09
Size Bid N/A
Size Ask N/A
Today High $4,608.03
Today Low $4,495.12
52 Weeks High $4,743.83
52 Weeks Low $3,633.40
Volume N/A
Dow Jones Industrial Average
34,580.08 Up 0.00 (0.00 %)
Delayed : 2021/12/03 17:35:09
Previous close $34,580.08
Opening $34,692.78
Price Bid $34,401.73
Price Ask $34,401.73
Size Bid N/A
Size Ask N/A
Today High $34,801.31
Today Low $34,264.57
52 Weeks High $36,565.73
52 Weeks Low $29,755.53
Volume 444,848,392
S&P/TSX Venture Composite Index
897.13 Up 0.00 (0.00 %)
Delayed : 2021/12/03 16:53:18
Previous close $897.13
Opening $915.28
Price Bid $882.43
Price Ask $882.43
Size Bid N/A
Size Ask N/A
Today High $915.63
Today Low $888.79
52 Weeks High $1,113.64
52 Weeks Low $767.45
Volume 106,896,443
S + P 100 Index-Clos Stt
2,095.32 Up 0.00 (0.00 %)
Delayed : 2021/12/03 16:20:01
Previous close $2,095.32
Opening $2,120.26
Price Bid $2,086.61
Price Ask $2,086.61
Size Bid N/A
Size Ask N/A
Today High $2,129.22
Today Low $2,074.93
52 Weeks High $2,196.34
52 Weeks Low $1,664.21
Volume N/A