Invest for the future with DIY online investing
We've got everything you need to make informed and profitable investment decisions.
Open an account
Find out more
A real impact on the lives of people
7 million members and clients
The coolest financial institution according to millennials in Quebec

(according to Leger's 2018 Youth Study)

389 millionredistributed to members and community
Desjardins Online Brokerage: A smart investment decision
Low commissions and fees

Trade securities at great rates between $5 and $9.95.

The possibilities are almost endless

We have everything you need, from RRSPs to margin accounts to Canadian stocks to mutual funds.

Outstanding service

Our expertise and customer service have been recognized again and again in the industry.

Trust your own knowledge

Become a seasoned investor using resources from the largest learning centre on the market.
State-of-the-art platforms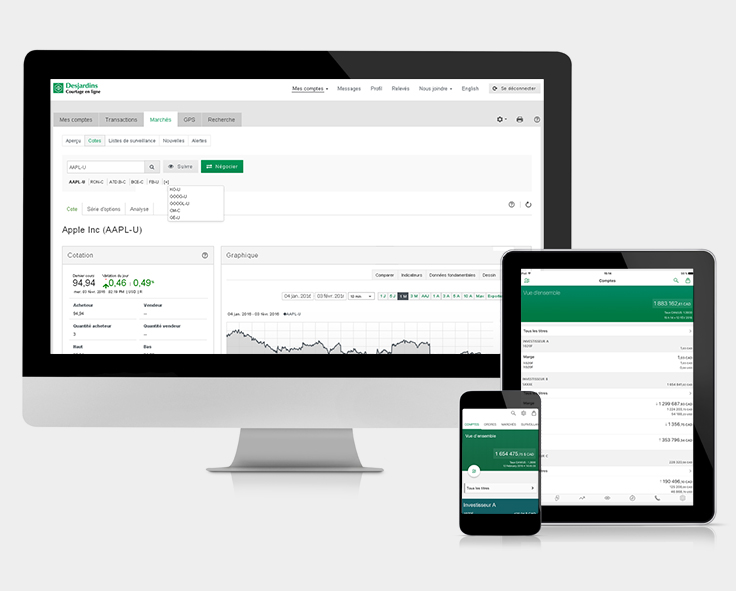 Disnat Direct
The perfect solution for the active investor
Advanced trading platform
Unlimited streaming quotes and charts in real time
In-depth technical analysis features
Learn about Disnat Direct
S&P/TSX Composite Index
17,005.82 Up 0.00 (0.00 %)
Delayed : 2019/11/20 16:49:27
Previous close $17,005.82
Opening $16,992.14
Price Bid $16,975.39
Price Ask $16,975.39
Size Bid N/A
Size Ask N/A
Today High $17,040.60
Today Low $16,962.61
52 Weeks High $17,040.60
52 Weeks Low $13,776.88
Volume 238,346,691
S&P 500 Index
3,108.46 Up 0.00 (0.00 %)
Delayed : 2019/11/20 17:03:50
Previous close $3,108.46
Opening $3,114.66
Price Bid $3,075.22
Price Ask $3,075.22
Size Bid N/A
Size Ask N/A
Today High $3,118.97
Today Low $3,091.41
52 Weeks High $3,127.64
52 Weeks Low $2,346.58
Volume N/A
Dow Jones Industrial Average
27,821.09 Up 0.00 (0.00 %)
Delayed : 2019/11/20 17:03:50
Previous close $27,821.09
Opening $27,879.55
Price Bid $27,769.14
Price Ask $27,769.14
Size Bid N/A
Size Ask N/A
Today High $27,897.28
Today Low $27,675.28
52 Weeks High $28,090.21
52 Weeks Low $21,712.53
Volume 260,236,030
S&P/TSX Venture Composite Index
524.14 Up 0.00 (0.00 %)
Delayed : 2019/11/20 16:49:27
Previous close $524.14
Opening $523.94
Price Bid $511.13
Price Ask $511.13
Size Bid N/A
Size Ask N/A
Today High $525.41
Today Low $523.11
52 Weeks High $642.80
52 Weeks Low $521.63
Volume 51,457,779
S + P 100 Index-Clos Stt
1,382.01 Up 0.00 (0.00 %)
Delayed : 2019/11/20 17:03:50
Previous close $1,382.01
Opening $1,385.50
Price Bid $1,379.06
Price Ask $1,379.06
Size Bid N/A
Size Ask N/A
Today High $1,387.10
Today Low $1,374.08
52 Weeks High $1,392.56
52 Weeks Low $1,041.66
Volume N/A
Stay up to date
Excerpt from the latest D Bulletin