The benefits of Desjardins Online Brokerage
Lower rates for active investors

Trade securities at great rates as low as $0.75.

Enjoy professional, specialized service

Our expertise and customer service have been recognized again and again in the industry.

Get informed

Want to become a seasoned investor? We've teamed up with the best educational partners in the business to offer you top-of-the-line investment training. Check it out!
State-of-the-art platforms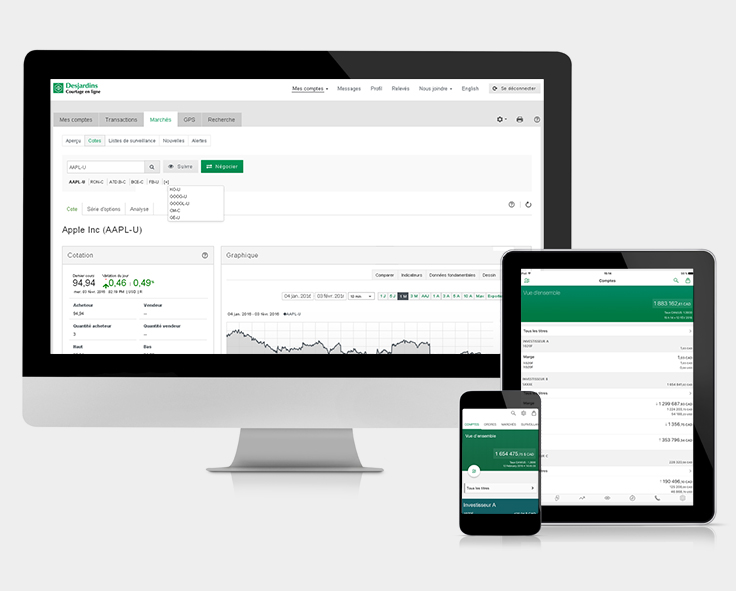 Disnat Classic
The perfect solution for the beginner or experienced investor
Modern, user-friendly web platform
Real-time quote updates
Learn about Disnat Classic
Disnat Direct
The perfect solution for the active investor
Advanced trading platform
Unlimited streaming quotes and charts in real time
In-depth technical analysis features
Learn about Disnat Direct
S&P/TSX Composite Index
20,311.78 Up 81.38 (0.40 %)
Delayed : 2021/07/29 17:00:44
Previous close $20,230.40
Opening $20,284.34
Price Bid $20,272.00
Price Ask $20,272.00
Size Bid N/A
Size Ask N/A
Today High $20,363.04
Today Low $20,273.67
52 Weeks High $20,381.70
52 Weeks Low $15,418.46
Volume 163,123,656
S&P 500 Index
4,419.15 Up 18.51 (0.42 %)
Delayed : 2021/07/29 17:13:23
Previous close $4,400.64
Opening $4,403.59
Price Bid $4,348.34
Price Ask $4,348.34
Size Bid N/A
Size Ask N/A
Today High $4,429.97
Today Low $4,403.59
52 Weeks High $4,429.97
52 Weeks Low $3,204.13
Volume N/A
Dow Jones Industrial Average
35,084.53 Up 153.60 (0.44 %)
Delayed : 2021/07/29 17:13:23
Previous close $34,930.93
Opening $34,985.99
Price Bid $34,944.23
Price Ask $34,944.23
Size Bid N/A
Size Ask N/A
Today High $35,171.52
Today Low $34,985.99
52 Weeks High $35,171.52
52 Weeks Low $25,992.28
Volume 223,665,901
S&P/TSX Venture Composite Index
921.27 Up 12.48 (1.35 %)
Delayed : 2021/07/29 17:00:44
Previous close $908.79
Opening $915.22
Price Bid $907.51
Price Ask $907.51
Size Bid N/A
Size Ask N/A
Today High $921.27
Today Low $914.50
52 Weeks High $1,113.64
52 Weeks Low $665.14
Volume 71,643,666
S + P 100 Index-Clos Stt
2,027.95 Up 4.36 (0.21 %)
Delayed : 2021/07/29 17:13:23
Previous close $2,023.59
Opening $2,022.32
Price Bid $2,007.94
Price Ask $2,007.94
Size Bid N/A
Size Ask N/A
Today High $2,033.85
Today Low $2,022.32
52 Weeks High $2,038.79
52 Weeks Low $1,468.00
Volume N/A
Stay up to date
Excerpt from the latest D Bulletin