Security
Desjardins Online Brokerage adheres to the most rigorous standards of privacy and security. All precautions are taken in order to protect transactions and information exchanged on the secured site.
Desjardins Online Brokerage applies the highest standards of security currently used in the industry in order to safeguard all information and transactions. All outgoing data are governed by the provisions of the Act respecting the protection of personal information in the private sector.
All transactions carried out during a session on the secure site are encrypted in order to ensure confidentiality during the exchange between our servers and your computer's web browser.
Check the site address. It should start with https://. The "s" indicates that the site is secure.
There will be a padlock icon on the status bar of your browser. (Netscape Navigator or Internet Explorer). Locate the padlock at the bottom of the page; if it is locked, the site is protected by TLS protocol.
Depending on the browser, click once or twice on the padlock at the bottom of the page to display the website administrator and the security certificate to verify the level of encryption: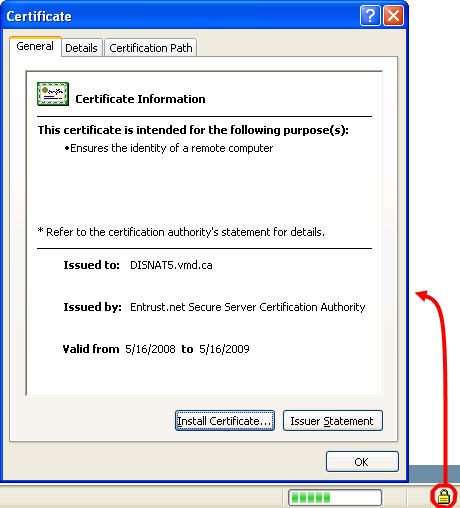 No. Messages sent by electronic mail are not secure during their transmission. Therefore, it is important not to include any personal or confidential information in your outgoing emails.
Furthermore, your incoming email can be opened and read by others if you do not take the necessary precautions. To avoid this, you should obtain an email address that is linked to a mailbox that requires a password that only you would know.
Never use a public computer (Internet café, library, hotel lobby or even a friend's computer) to access the trading website.
Use a firewall on your computer.
Use antivirus software and make sure it is constantly updated (most antivirus programs can be set to update automatically).
Use the latest version of your operating system and web browsers.
Do not download email attachments unless you are expecting them.
Only download software from sites you trust.
Always log out when you have finished using the secure site.
Clear your browser's cache at the end of each session.
Close your browser after logging out.
Use a password that is has 6 to 8 characters and is not easily guessed.
Privacy
At Desjardins Online Brokerage confidentiality is a priority. This is why we take the necessary measures to ensure the confidentiality of your personal information. Personal information refers to all information that you provide willingly.
Information collected on Desjardins Online Brokerage websites is confidential. Only authorized personnel have access to it. In no instance will your personal information be made public or sold or passed along to a third party without your consent, except to provide services that you requested or to comply with a court order.
The personal information gathered on Desjardins Online Brokerage sites is used solely to follow up on a client's online requests for services and financial products, or for estimates.
Cookies are used on our site. They identify your browser software when you move from site to site or page to page during a Web session. This information can then be used to identify you and facilitate your access to a site and your ability to navigate within our site. Cookies can only be read by the website that sends them to your computer.
When you access our site directly or through a publicity redirecting to our site, a cookie file is automatically created in your computer. Our server and possibly third party ad servers can access this file in order to improve your experience on our site and in some instances promote our products. While they enable the site to identify you as a specific user, they don't recognize you by your name or other personal information. No personal information is collected through cookies.
We may collect information for statistical purposes, for instance, to determine a page's popularity, the average number of pages accessed per visitor, and the average time each visitor spends on the site. Cookies may also allow us to display Desjardins Online Brokerage publicity if you access an external site which displays those publicities.
We use two types of cookies:
Session cookies: these are not stored on your hard drive and are deleted when you log off our site.
Persistent cookies: these are stored on your hard drive and recalled at your next visit. They are stored as text files in order to preclude any viruses or programs from accessing your data.
To access all parts of our website, your browser must accept cookies. If your browser is set up to refuse cookies, you can change the Internet settings in your web browser to allow cookies. If you do not allow cookies, some pages may not function properly and some features may not be available.
Google Analytics: Desjardins Online Brokerage uses Google Analytics on Desjardins Online Brokerage websites (hereinafter "Sites") and Desjardins Online Brokerage mobile applications (hereinafter "Applications"). The service is provided by Google Inc. (hereinafter "Google"). Desjardins Online Brokerage uses first-party identifiers and third-party identifiers in conjunction with third-party vendors. Google Analytics uses cookies and other unique identifiers, which are anonymous identifiers placed on your computer material. They help Desjardins Online Brokerage to analyze your use of the Sites and Applications. The traffic data collected through cookies and other unique identifiers particularly pertains to your use of the Sites and Applications (including your IP address). Google transmits the data and stocks it on servers in the United States. Google may share this data with third parties where legally obligated or when a third party is processing data for a Google account. No information allowing Google to identify you will be transmitted.
Google will use the information collected to:
Analyze your use of the Sites and Applications
Compile reports on Site and Application activity
Provide other services related to Site and Application activity as well as Internet use
Desjardins Online Brokerage websites may at times contain links to external, third-party sites or parts of external sites. Desjardins Online Brokerage has no control over the content and reliability of these sites, or over their policies regarding confidentiality. As a result, all personal information that you transmit via these sites is subject to the prevailing privacy laws. It is your responsibility to be aware of the law in order to ensure the privacy of your personal information.
Data using your previous visits on Disnat.com are used to serve you Desjardins Online Brokerage ads on third-parties sites using cookies.
DoubleClick: DoubleClick is a cookie that Google Analytics uses to collect anonymous information. Google Analytics' Advertising Features on sites that use DoubleClick include:
remarketing using Google Analytics
Google Display Network Impression Reporting
DoubleClick platform integrations and Google Analytics Demographics and Interest Reporting
Floodlight Integration, a Doubleclick feature that enables marketing agencies hired by Desjardins to gauge Desjardins.com user activity after seeing or clicking on their ads. Floodlight is used for reports and ad optimization.
Learn more about the technology and how to opt out of interest-based ads - External link. This link will open in a new window..
Security Tips & Fraud Prevention
Maintaining your account's security is our top priority. To supplement our security measures, there are certain steps you should take to help protect your account from fraud.
To securely access the Desjardins Online Brokerage website, open a new web browser window and type in: www.disnat.com
Before logging in to your account, pay close attention to the URL (website address) in the address bar of your browser. Make sure that the address begins with one of the following:
https://www.disnat.com/
https://disnat5.vmd.ca/
https://secure.disnatdirect.com/
Examples:
Legitimate Desjardins Online Brokerage address: https://www.disnat.com/indexen.asp
Fraudulent website address: https://www.disnat.com.kz/indexen.asp
Never share your password : Desjardins Online Brokerage representatives will never ask you for your password. If you believe someone has learned your password, please change it immediately.
Create a secure password: Your password must be 6 to 8 characters long and contain both numbers and letters. Special characters (such as %, #, :, *, $) can not be used in your password. Avoid choosing obvious words or dates such as a nickname or your birth date.
Keep your password unique: Don't use the same password for Desjardins Online Brokerage and other online services such as your bank access. Using the same password for multiple websites increases the probability that someone could learn your password and gain access to your account.
Use a trading password: To add a second layer of security when entering trades, go to the "My Profile" menu of the Disnat Classic user site and select "Preferences." Then select "yes" for both "Ask for my trading password when placing an order" and "Use a trading password different from the login password" options in the "Trading Password" section. Enter the password you would like to use and click "Submit."
Don't share personal information via email: We will never ask you to provide your password or financial information within an email or send such information by email.
Phishing is a technique used with the intent of obtaining sensitive information from the victims (password, credit card number, date of birth, etc.) by letting them think that they are communicating with a trustworthy third party (bank, administration, etc.)
Please do not reply to an email requesting, for example, an update of your personal information. This type of email is fraudulent.
You can forward the email to the following address to inform Desjardins Securities of the fraud attempt: hameconnage@desjardins.com