Diversify your portfolio with the structured notes
An alternative to traditional investments.
The Product
What is a structured note?
Structured notes are investment products that are similar to bonds and whose performance is linked to an underlying asset such as a commodity, an exchange traded fund (ETF), or an index. Sébastien Hébert, CFA and principal analyst for structured products at Desjardins, demonstrates how these products can help diversify your portfolio.
Videos

These videos are provided for information purposes only and do not constitute an offer or solicitation to buy or sell securities. The securities or class of securities mentioned may not be suitable for all investors. Investment objectives, financial situation and the specific needs of each of Desjardins Online Brokerage client are not considered in this presentation. Before making an investment decision based on the recommendations provided, we recommend the reader to assess how well these suit them, in view of their personal financial situation as well as their objectives and investment needs.
Before investing, you should review the offering documents available on the issuer websites.
Sébastien Hébert began his career with Desjardins in 2001 and held several positions in the organization until 2008. He subsequently advanced in Compliance at National Bank working with derivatives, private placements, new products and hedge funds. In 2013, he returned to the Desjardins Group and has since held the position of Senior Analyst, Structured Products with the Portfolio Management Group. Sébastien holds a CFA charter as well as a finance degree from the Université du Québec in Montreal. He has over eighteen years of experience in financial services, particularly in the investment sector, derivatives, compliance and currency exchange hedging.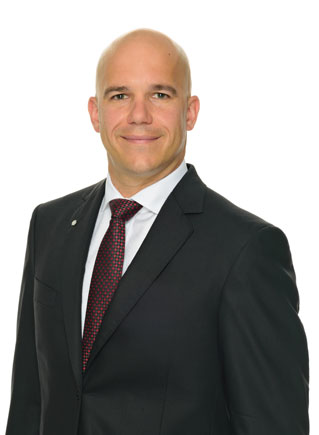 About Structured Notes
Why would someone buy a structured note?
Structured notes provide risk adjustment to a portfolio. For example, a prudent investor can increase their yield potential while maintaining a degree of capital security. A retired person may prefer a guaranteed product or a product that pays regular distributions. As for the investor who wants to maximize its growth potential, they might choose an accelerated note that amplifies the performance of an underlying index, or includes a protective barrier that mitigates downside risk. These examples illustrate how structured notes differ from traditional investments such as mutual funds and exchange traded funds.
Are there commissions to buy or sell structured notes?
Broker compensation is payable by the issuer and disclosed in the offering documents. Desjardins Online Brokerage will not charge you extra commissions.
Is my capital guaranteed?
It depends. If you buy a capital guaranteed note, your capital is 100% guaranteed by the issuer on the condition that you hold it until maturity. Principal at risk notes provide no guarantee of full repayment of principal at maturity.
Is my return guaranteed?
No. Also, the performance will be known only at product maturity.
What is the difference between a capital guaranteed note and a principal at risk note?
If you buy a capital guaranteed note, your capital is 100% guaranteed provided that you hold it until maturity. Principal at risk notes provide no guarantee of full principal repayment at maturity.
Can I sell my structured note before maturity?
The secondary market is not guaranteed and only the issuer can redeem your note.
What is the difference between a bond and a structured note?
The biggest difference is that the yield of a note is known only at maturity.
Will my broker advise me if I am subject to a prepayment?
Since Desjardins Online Brokerage offers self-managed accounts, it is up to you to track your investments.
How are structured notes treated for tax purposes?
Desjardins Online Brokerage offers no tax service or advice. You should therefore refer to your accountant or your tax advisor to better understand the tax treatment of your structured notes.
Will my broker send me a tax slip for my structured note?
If your structured note is held in a non-registered account and revenues are generated for the current year, a tax slip will be issued.
What documentation should I read before buying a structured note?
It is important to read the prospectus, the pricing supplement and any other issuer documents to help you make an informed investing decision. When placing your purchase order, Desjardins Online Brokerage representatives will assume that you have read these documents and that you understand the product.
Can you trade Class F structured notes?
Desjardins Online Brokerage does not allow trading in structured notes with this fee structure.