Regulatory Reports
Report on Fees and Other Forms of Remuneration and Report on Your Investment Performance: Everything You Need to Know
Regulation
As a result of changes made by regulators to improve the information provided to investors, all securities brokers in Canada are required to disclose new information to their clients. To meet these regulatory requirements, Desjardins Online Brokerage produces, since 2016, the two following annual reports, which will accompany the year-end portfolio statement:
Annual Report on Charges and Other Compensation, which list all changes related to your account.
Investment Performance Report, which will provide information about the performance of your brokerage accounts.
These reports are meant to provide investors with greater transparency and to better harmonize reporting conventions by having all securities dealers in Canada use the same method to calculate performance.
If you currently get your statements electronically, you will receive the reports in the Statements section of the secure website, accessible through the Client Login or otherwise by mail. Please note that the time frame for receipt of your portfolio statement will be longer than usual as it will be sent at the same time as the Report on Charges and Other Forms of Compensation and the Investment Performance Report.
The information in these reports is obtained from sources we believe to be reliable, but is not guaranteed by Desjardins Online Brokerage and may be incomplete. These reports have been prepared for information purposes, to facilitate the management of your portfolio and do not constitute tax documents. We wish to point out that your statement is the official document that always takes precedence over the information contained herein.
Annual report on charges and other compensation
This report lists all changes and amounts paid to Desjardins Online Brokerage for the services you receive. Two types of compensation are collected:
Direct Compensation, paid by you, which includes:

Brokerage commissions

, which are amounts charged to you on your transactions.

Account-related fees

, which are amounts charged to cover the operation, maintenance, transfer or closing of an account, plus the federal, provincial and territorial sales taxes paid on these amounts.

Indirect Compensation, paid by third parties, which includes:

Purchase commissions and trailer fees received from third parties

, which are comprised of commissions from issuers paid to Desjardins Online Brokerage for the investment of their products.
You can view the full list of fees.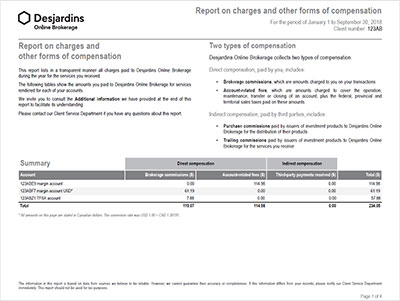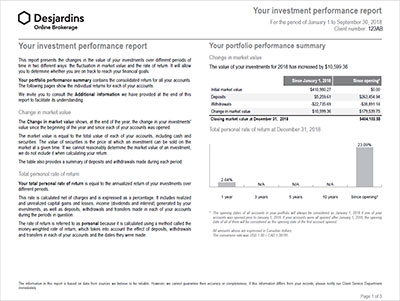 Annual report on the performance of your investments
This report will allow you to better understand the progress of your investments and to see that your strategies achieve your financial goals.
Covering the period from January 1 to December 31, this report shows you the change in the market value of your portfolio for the year and your total personal rate of return.
Your total personal rate of return is an annual return calculated for each account you hold using the Dollar Value Weighted Rate of Return method.
The dollar-weighted rate of return takes into account the importance of fund movements (your deposits and withdrawals) and the dates at which they are made considers the performance of investment products in which you have invested. Therefore, it does not allow for comparisons with benchmarks since they do not take into account your deposits or withdrawals nor, in most cases, management and operating expenses. This method is the Canadian standard and is recognized and adopted by the Canadian securities regulator (IIROC).
The dollar-weighted rate of return may exhibit excessive returns under certain conditions: 
| Depending on the use of the account: | Depending on the nature of the account: |
| --- | --- |
| Account at 0 or a low value for several days | Negative values |
| Cash account used solely to pay fees | Short positions |
| Account used for minimum withdrawals (LIRA/LIF, RRSP/RRIF) | Margin account |
| | Guaranteed account |