What to make of rising trade tensions
Rising trade tensions fuelled by the U.S. government's protectionist stance were a particularly troubling economic trend in 2018. At one point, it even looked as though NAFTA could be scrapped. But a new agreement between Canada, the U.S. and Mexico and a truce between the U.S. and China reduced tensions late last year. In the first four months of 2019, we saw signs of progress in trade talks between the two superpowers, reducing uncertainty about the global economy and driving strong market performance.
But hopes of an imminent deal were dashed in early May when the Trump administration hiked last fall's tariffs on $200 billion worth of Chinese goods from 10% to 25% and threatened to slap them on all Chinese imports. Not surprisingly, China quickly retaliated with tariffs of its own. The two countries are still talking, but the ceasefire is clearly over.
While stock markets fell sharply on news of the new tariffs, we expect the increased protectionism by the U.S. and China to have a limited impact on the global economy. The new tariffs announced this year are no stiffer than those imposed last year. However, escalating tariffs could have more harmful effects, especially if other countries are pulled into the fray. A bilateral trade dispute is less damaging than a more widespread conflict since affected companies can still source from and sell to other countries.
But these tariffs are good news for no one. For U.S. consumers, they're essentially a new tax. Fortunately, the U.S. is relatively well positioned due to its strong domestic labour market. As for China, it's taking a risk by playing tit-for-tat with the U.S. given the signs of weakness in its economy in recent quarters and its important trade surplus (US$379 billion in 2018) with the U.S. (Graphic 1). On either side, if financial markets respond negatively, the recent rise in trade tensions could have even more detrimental effects.
Graphic 1 – United States: America's biggest trade deficit is with China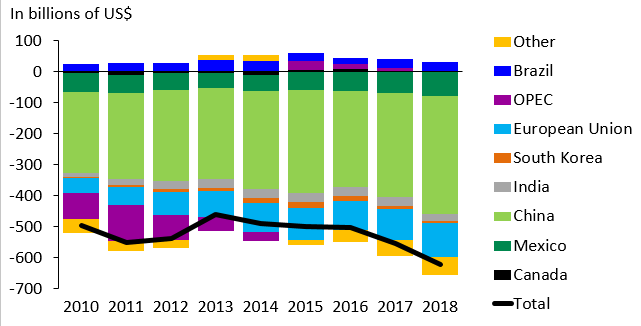 What this means for Canadians
Canada isn't directly impacted by the latest volley of tariffs, but some Canadian exporters could be affected if their U.S. or Chinese customers have to roll back production. On the flip side, if U.S. or Chinese importers decide to look elsewhere for suppliers, companies here at home could see new opportunities.
The escalating U.S.–China trade conflict could also be a plus or a minus in our own trade disputes with the two countries. For now, the Trump administration is striking a more conciliatory tone with America's other trading partners amid the renewed hostilities with China. It recently postponed imposing tariffs on European and Japanese auto imports and lifted tariffs on Canadian steel and aluminum. That leaves hope that the new trade agreement between the U.S., Canada and Mexico will be ratified soon.
Because the U.S. administration is so protectionist and unpredictable, it's especially important for exporters to continue developing new markets. We've seen progress on this front, with the share of Quebec's exports destined for the U.S. falling from a high of over 85% in the early 2000s to about 70% in 2018, and more exports heading for Europe and Asia (Graphic 2). As the Canada–European Union Comprehensive Economic and Trade Agreement (CETA) and the Comprehensive and Progressive Agreement for Trans-Pacific Partnership (CPTPP) take effect, exports to Europe and Asia should continue to increase gradually.
Graphic 2 – Québec : Share of total goods exports destined for Europe and Asia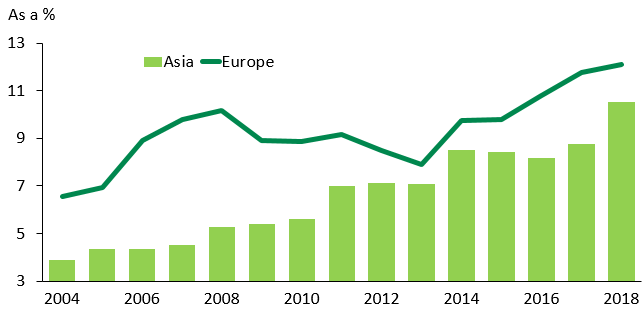 Meanwhile investors should expect trade tensions to fuel continued market volatility over the next few months, temporarily driving markets lower. Markets were already poised for a pullback after the spectacular rebound we've seen in recent months. We expect the Fed to be patient and keep key interest rates where they are, especially since the new tariffs have increased the risk of inflation in the U.S. However, caution is warranted. If the trade war really heats up, the economic outlook could seriously deteriorate and send markets tumbling.