Introducing Desjardins Structured Notes
Wednesday, November 13, 2019
Investment solutions designed to deliver higher return potential in different market views while your initial investment stays safe.
Year after year, structured notes, also known as market-linked notes, have been gaining in popularity among investors. That's because structured notes offer an alternative to traditional investments that can be used to diversify a portfolio while offering a distinct risk/return profile from fixed-income or growth products.
Desjardins, a leader in the Canadian structured product market with over 20 years of experience in the field, is pleased to introduce principal protected notes. These investment solutions are designed to take advantage of a potential return for specific market views while offering investors the peace of mind of knowing that their principal is 100% guaranteed at maturity.
What are principal protected structured notes?
They are investments made up of two key components:
One component guarantees that your initial investment will be returned to you at maturity.
A second market-linked component offers the possibility (not a guarantee) of a return based on the performance of the note's underlying asset and other product-related features:

The underlying asset (or reference portfolio) may be a basket of stocks, stock market indexes, etc.
The features can vary and include elements such as term, participation rate, return formula, etc.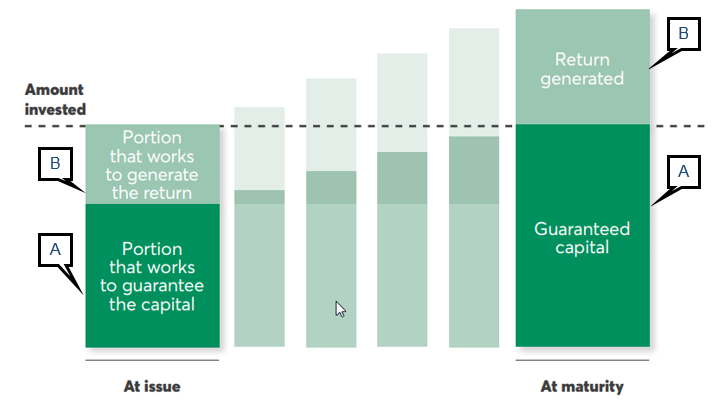 The advantages of principal protected structured notes
In addition to providing sector and/or geographic diversification, these investment products combine the following benefits:
1. Security
Principal 100% guaranteed at maturity
2. Market return potential
Higher return potential than traditional fixed-income products like guaranteed investment certificates (GICs)
Unique market exposure provided by the structure of the note
3. Liquidity and flexibility
Redeemable at any time (with certain conditions, fees may apply)
Various terms
Minimum investment of $1,000
Can be included in registered plans or held separately
Desjardins Principal Protected Notes: take advantage of different market views
Each investment product is designed or structured in a unique way to provide investors with the best possible return potential in different market views, all while guaranteeing 100% of the invested capital at maturity.
Some of the products are also designed to provide income flow during the term through guaranteed or contingent coupons.
Desjardins makes different investments available based on market conditions while taking investors' needs into account.
For example:
Stable or moderately bullish market
Structuring element chosen
Purpose of structuring
Enhanced participation rate: 150%

Enhanced participation rate
Increase the possibility of reaching the maximum return on the note at maturity.
Anticipated short-term market correction followed by a recovery
Structuring element chosen
Purpose of structuring
Return formula: Optimal start

Take advantage of a short-term market correction followed by a rebound.
Maintain long-term exposure if there is no correction.
Emerging market potential
Structuring element chosen
Purpose of structuring
Basket of securities selected by Desjardins experts: 14 equities from a variety of sectors in the emerging markets (China, Taiwan, South Korea, Mexico, India, etc.)

Add emerging market exposure to an investment portfolio with peace of mind, eliminating the risks associated with volatility and exchange rate fluctuations, etc.
Take advantage of the emerging markets' significant growth potential when compared to the developed markets.
---
An investment in principal protected notes may not be suitable for all investors. Important information about principal protected notes is contained in the Information Statement. Investors are strongly encouraged to read attentively the documentation related to a note issuance before investing. The documentation related to a note issuance in particular is available on the summary page of each issuance available on the website www.desjardinstructurednotes.comThis link will open in a new tab. . The offering and sale of notes may be prohibited or restricted by laws in certain jurisdictions in Canada and notes are not offered for sale outside Canada. Notes may only be purchased in the jurisdictions where they may be lawfully offered for sale.
---