Summary
Candle charts show in each candle the relationship between close and open prices. Two, three or more candles can offer a significant indication of market tops and bottoms. Candle charting techniques can be used with any kind of period: five minutes, one hour, one day, etc. In this first article on candle charts, we will look at the most common types of candles.
In a bar chart, each time period is identified by a bar, as in Figure 1. In candle charts, the bar is called candle, as in Figures 2 and 3.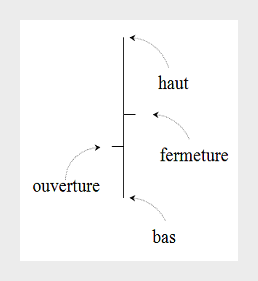 Each bar and candle have similar characteristics: the distance between the high and low of the period, and the distance between the open and close; however, in a bar, the emphasis is mainly on the distance between the high and low, while in candles, it is on the difference between the open and close, i.e. the "body." Candle charting techniques are similar to those of bar charts: pattern recognition, trend lines, support and resistance, channel lines, pivot points and other typical features. They can be used with data from any time period we choose: five minutes, one hour, one day, etc.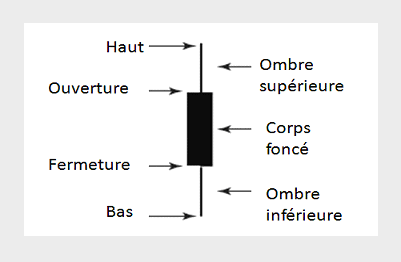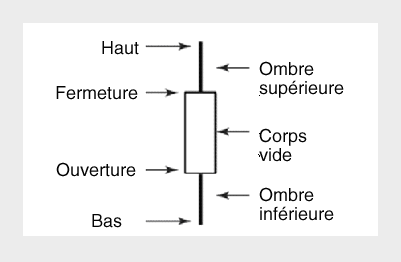 The key feature of the candle is the body, the distance between the open and close. The conventional way is to have the body dark or colored (the color can vary) when the open is above the close price; it is an empty body when the open is below the close price.
A single candle doesn't tell us if the high and low, or the close and open, are higher or lower than those of the previous period. It only indicates whether the close price is higher or lower than the open price in the same period.
Analysis of candle charts is not limited to a single candle. It is based on several candles forming a pattern or figure, and its position in relation to overall market behavior.
A candle is formed by a "body" and, usually, two "shadows." The body is the rectangle linking the open and close prices. Shadows go beyond the body, above and below it. The body is more important than shadows in reading candle charts.
There are several kinds of candles, determined by the different positions of the open, high, low and close prices.
The most common are described below.